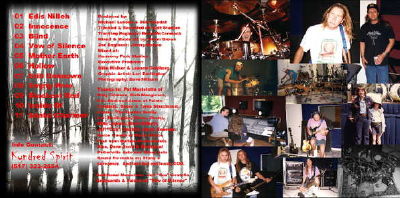 Inside of the J-card with pics of the studio sessions.
Song Titles
Edis Nilleh
Innocence
Blind
Vow Of Silence
Mother Earth
Hollow
Still Unknown
Empty Hole
Blackest Red
Inside Of
Snake Charmer
The main musicians who recorded Kyndred Spirit are
Michael Lunden : Drums &amp Concussions

Bruce Pendelton: Guitar &amp Voices

Dale Randall: Guitar &amp Voices

Larry Rocheleau: Bass Guitar
Liner credits are:
Produced by Mike Lunden &amp Dale Randall
Tracked and Recorded at Galt Studios
Tracking Engineer : Brian McCormack
Mixed and Mastered by: Glenn Brown
2nd Engineer :Jimmy Romeo
Mixed at: Harmony Park Studios
Executive Producers : Mike Walker & Leanne Goldberg Walker
Graphic Concept : Mike Lunden
Replication &amp Graphic Production : World Class Tapes
Photography : Dave Hilburn

Thanks to:
Paul Mastelotto of "King Crimson&quot,
Rich Mangicaro, Paul at Paiste Cymbals
Sonor &amp Tama Starclassic drums, Vic Firth
drumsticks, The Lunden family, Glenn Brown
Jimmy, Mike &amp Leanne, Dave Hilburn
Jeff &quotCoz&quot Costello, Chad Martinsen
Aaron Reames, Aaron Hawks at Music Manor,
Paul from Buffalo Drum Outlet, &amp The Zen Ponies.


Also ...
Dane, Scott & Earl at Potterville Auto
and Skory Auto Sound for makin' my Stang a screamer.
And last but not least God.


Additional Musicians
Jeff "Coz" Costello - Keyboards &amp Background Vocals on "Vow Of Silence"



Purchase Kyndred Spirit online now with Paypal

Price: $9.99 (plus $3.00 shipping & handling) Buy Now


E-mail: webmaster@zenponies.com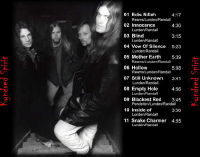 [ Mike Lunden Home | Zen Ponies Home ]



Site created and maintained by: